Transforming agriculture
with powerful ideas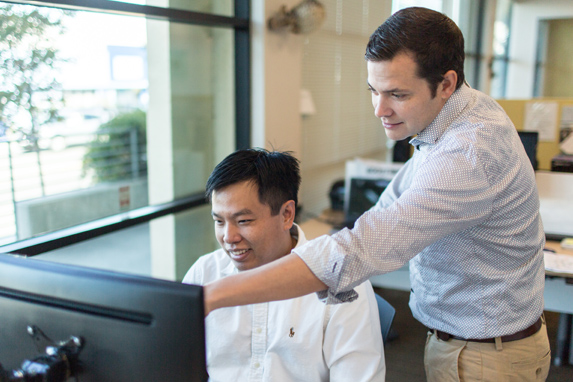 Our Canadian Team
Pivot Bio is dedicated to creating exciting innovations for sustainable farming and working with farmers bring its technologies to the field. Meet our team members who are making this happen in Canada.

Chuck Broughton
General Manager, Canada
Chuck Broughton
General Manager, Canada
Chuck Broughton leads Pivot Bio's activities in Canada, bringing more than 30 years of industry experience to the role, including business development, sales and marketing in the North American and global seed treatment, inoculants and crop protection markets. Prior to joining Pivot Bio, Chuck most recently served as Vice President of Business Development in addition to Vice President of Sales, Seed Treatment & Inoculants with Verdesian Life Sciences. He's also served as the global commercial director for the DuPont Pioneer seed treatment division, where he launched seed treatments in North America and implemented marketing strategies on a global level. Additionally, he has worked for Novozymes Bioag and Novartis Crop Protection. Chuck is a graduate of the agricultural business program at Iowa State University and is currently based in Wisconsin.

Katie Donahue, B.Sc., P.Ag.
Commercial Agronomist
Katie Donahue, B.Sc., P.Ag.
Commercial Agronomist
Katie Donahue is an experienced agronomist, working over 15 years in the agriculture industry. Before joining Pivot Bio she spent more than a decade with Rack Petroleum in agronomic field and sales roles, most recently leading a team of agronomists as Agronomy Manager. Katie is a professional Agrologist and a graduate of the University of Saskatchewan, where she earned a Bachelor of Science in Agronomy. Katie, her husband and 2 children live and farm in west central Saskatchewan.

Wade Clarke
Pivot Bio Regional Sales Leader for Canada

Karsten Temme, Ph.D.
CEO and Co-Founder
Karsten Temme, Ph.D.
CEO and Co-Founder
For years, Karsten has been fascinated with the limitless potential of the unseen microbes that inhabit our world. Seeking to produce "more than scientific journal articles" and driven by the desire to create meaningful change in the world, Karsten partnered with his friend and colleague, Alvin Tamsir, to create Pivot Bio.

Alvin Tamsir, Ph.D.
CSO and Co-Founder
Alvin Tamsir, Ph.D.
CSO and Co-Founder
As co-founder and leader of Pivot Bio's scientific team, Alvin Tamsir, Ph.D., grew Pivot Bio's research team from two scientists to a group of 50+. Based in Berkeley, CA, Alvin continues to lead the organization's interdisciplinary research teams.

Lisa Nunez Safarian
COO and President
Lisa Nunez Safarian
COO and President
Lisa Nunez Safarian leads commercial, manufacturing, and product development at Pivot Bio. Dedicating her career to advancing agriculture and helping farmers achieve better outcomes, Lisa oversees the day-to-day operations to ensure we are meeting the nitrogen needs of our customers.
Prior to joining Pivot Bio, Lisa held several leadership positions at Bayer and Monsanto. Most recently, she served as President, Crop Science North America for Bayer where she launched innovative technologies and go-to-market strategies that grew the business.
Partners Who Share Our Vision
Powerful breakthroughs come from strong partnerships. At Pivot Bio, our Board of Directors bring a wealth of experience and insight — as well as a shared vision for how Pivot Bio's technology can improve agriculture and our world. In addition, our team collaborates and innovates alongside some of the world's leading academic minds through active engagement with our Scientific Advisory Board.
BOARD OF DIRECTORS
CHRIS ABBOTT
Continental Grain Company

SUSAN KIM
PacBio
MONICA MCGURK
Tropicana and Mainstream Brands

MATT OCKO
DCVC (Data Collective)
RYAN RAKESTRAW
Temasek

COOPER RINZLER, Ph.D.
Breakthrough Energy
LISA NUNEZ SAFARIAN
Pivot Bio
KARSTEN TEMME, Ph.D.
Pivot Bio
ROGER UNDERWOOD
Entrepreneur and Ag Tech Investor
Pivot Bio Board of Directors Chairperson
SCIENTIFIC ADVISORY BOARD
JEAN-MICHEL ANE, Ph.D.
University of Wisconsin Professor of Bacteriology and Agronomy
GLORIA CORUZZI, Ph.D.
Carroll & Milton Petrie Professor
New York University
RAY DIXON, Ph.D.
John Innes Centre Professor of Molecular Microbiology
RICHARD FERRIERI, Ph.D.
University of Missouri Research Professor
DAVID KANTER, Ph.D.
Asst. Professor of Environmental Studies
New York University
Vice Chair of the International Nitrogen Initiative
LUIS RUBIO, Ph.D.
Universidad Politécnica de Madrid Professor of Plant Biotech and Genomics
GARY STACEY, Ph.D.
Curators' Distinguished Professor
University of Missouri
ERIC TRIPLETT, Ph.D.
Professor and Chair – Microbiology & Cell Science
University of Florida
CHRIS VAN KESSEL, Ph.D.
Emeritus Professor, Department of Plant Sciences
University of California – Davis
CHRIS VOIGT, Ph.D.
Co-Founder and Professor of Biological Engineering
Massachusetts Institute of Technology